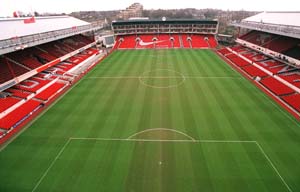 Name:

Official: Arsenal Stadium
Unofficial: Highbury

Capacity:

38,500

How to get there:

Arsenal Stadium is well served by the following stations:

Arsenal
Closest to the ground, Picadilly Line.

Finsbury Park
Victoria and Picadilly Lines, British Rail from Kings Cross.

Holloway Road
Picadilly line

Highbury and Islington
Victoria line, British Rail: North London Link .